IT'S getting tougher and tougher to decide who is the ugliest man in SA.
The Mr Ugly SA will be held at the Library Gardens in Polokwane, Limpopo on 26 March.
Event organiser Eliyah "Kiasto" Papole (36) told Daily Sun that many men have entered and more than 55 entries from across the country have been received.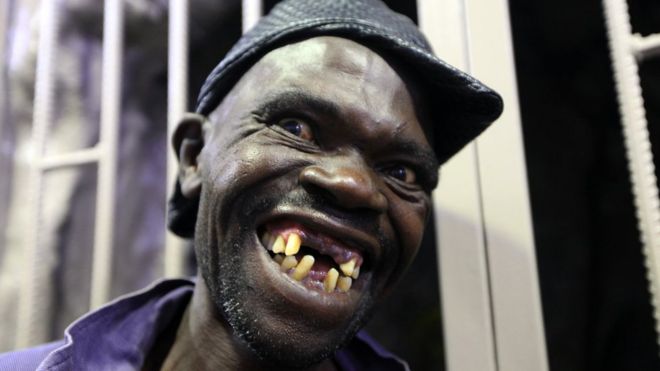 Who Is The Ugliest Of Them All
"We've rejected many more entries," said Kiasto.
He said since the People's Paper first ran the story last year, many people have been sending in photos, claiming they are really ugly.
He said they will be hosting the competition in a different province every year.
"Next year we are going to Mpumalanga," he said.
"We hope to attract more sponsors to raise enough funds for poor people in the country."
Who Is The Ugliest Of Them All
He said he started Mr Ugly SA because people have only been focusing on good looking guys. We've been having pageants for Mr Handsome, Mr SA, Mr Soweto and others. It's time to recognise the ugly guys for a change.
"Some people are proud of their looks and we need to recognise and appreciate that by giving them exposure."
"The winner will take home R3 500, a tablet and R200 airtime.
"Second place gets R2 500, a tablet and R150 airtime.
"Third place gets R1 500 cash, a smartphone and R100 airtime.
"Every cent we collect from the entrance fees will be donated to orphanages and old-age homes in Limpopo."
Copyright © Africa 24 News.
All rights reserved.
Distributed by
Africa Metro
Global Media (
www.africametros.com
). To contact the copyright holder directly for corrections — or for permission to republish or make other authorized use of this material,
Click Here.
Africa 24 News publishes around multiple reports a day from more than
40 news organizations
and over
100 other institutions and individuals
, representing a diversity of positions on every topic. We publish news and views ranging from vigorous opponents of governments to government publications and spokespersons. Publishers named above each report are responsible for their own content, which Africa 24 News does not have the legal right to edit or correct.
Articles and commentaries that identify Africa 24 News as the publisher are
produced or
commissioned by Africa 24 News.
To address comments or complaints,
Please Contact Us.